Since 1973, Urban League of Palm Beach County has assisted African Americans and minorities in achieving social and economic equality and becoming self-reliant through education, housing, employment, and health opportunities.

Our Next Food Drive Is Aug. 15 in West Palm Beach
The Urban League of Palm Beach County and our partners are planning a drive-through food distribution on Aug. 15, starting at 7:30 am, at our headquarters in West Palm Beach. We need volunteers. Please contact: Soulan Johnson at 561-833-1461 Ext 3002.
We are aware of the enormous financial burdens that the coronavirus (COVID-19) pandemic is causing for people throughout our community. We have started an emergency online campaign to collect donations to take care of vulnerable, low-income individuals and families.

ULPBC Launches Foundation and Support Initiative
The Urban League of Palm Beach County has launched the Urban League of Palm Beach County Foundation, as well as the Gifts of Gratitude initiative, to support our work in assisting African Americans and other minorities in the achievement of social and economic equality.  READ MORE
DO YOUR JOB AND VOTE
The Urban League of Palm Beach County encourages all Palm Beach County residents to get out and vote.
We're working with When We All Vote to make sure EVERY eligible person is registered to vote. Learn More
And we're launching a voter registration T-shirt initiative – with a $20 donation, you can support efforts to get people registered to vote. Find Out More
URBAN LEAGUE OF PALM BEACH COUNTY REMAINS OPEN FOR BUSINESS.
IF YOU NEED ASSISTANCE, PLEASE CALL OUR MAIN NUMBER: 561-833-1461
Our offices are closed to the public to minimize the spread of the coronavirus (COVID-19). But our staff is working remotely and available to help you. We are still providing the following services remotely:
Housing: counseling for pre-purchase and mortgage default
Project Thrive: case management and assessments 
Entrepreneurship Center: consultations and workshops 
Children in Need of Services and Families in Need of Services (CINS/FINS):case management
Project Moving Forward: case management and referrals 
City of West Palm Beach workforce grant: case management and training
PBSO workforce grant: case management and training
US Census questions: call 561-833-1461 Ext. 3002
Coronavirus (COVID 19) questions: information from CDC
Again, all of these services are offered remotely. Please call us at 561-833-1461 to access our staff related to these services or if you have other issues to discuss.  
Click here regarding closings of our offices.
There's a lot you can do to protect yourself and your loved ones against the coronavirus. That includes:  
Washing your hands frequently with soap and warm water for 20 seconds or use an alcohol-based hand sanitizer. 
Avoiding touching your eyes, nose, and mouth.
Avoiding close contact with people who are sick.
Staying home if you feel ill.
Click here to read more steps you can take to stay safe and health.
Below are resources to help you and your family get through the challenges facing our community now and in the coming weeks.
Here are links to academic websites to support at-home learning:
Here are links to help you manage stress during these times:
Health and Wellness Resources
Here are links to help you maintain healthy routines at home: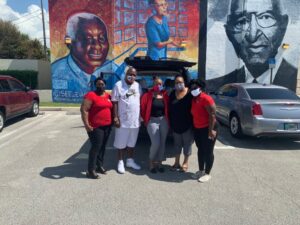 News Mentor V Participants Make Care Packages for Graduating Seniors We're still celebrating the successes of our graduating seniors! This...
Read More
Stories Our PBSO Program Helped Teen Find Work and Determination To Pursue His Career Dream William Tookes wanted to complete...
Read More
Spotlight On Our Staff
Joan Kennedy is our senior advocate counselor/job developer. She's known for her outstanding work in the community. She works with many organizations and often goes beyond what's required to make a difference.  READ MORE